By Sanjeev Mann (@Ask_Sanjeevs )
One of the world's biggest rappers hit Glasgow's O2 academy just over a week ago, and boy, it really was a gig to remember (well, the main act was anyway). He returned to the UK for the first time since 2015 for a UK exclusive tour to along with an appearance at wireless festival in London. Known to many as having one of the greatest hip hop albums in history was realistically never going to disappoint – of course I'm talking about NAS.
I was there with plenty of time to spare, eagerly anticipating what was to come. It was only my second ever visit to Glasgow's O2 Acadamy and it did feel smaller than I remember (not that it mattered). I was looking forward to the close atmosphere that larger venues such as the Hydro often fail to deliver on. Not to mention, as a wheelchair user the disabled seating was brilliant and almost right in the middle which again delivers over the larger venues where wheelchair seating is right at the back most of the time.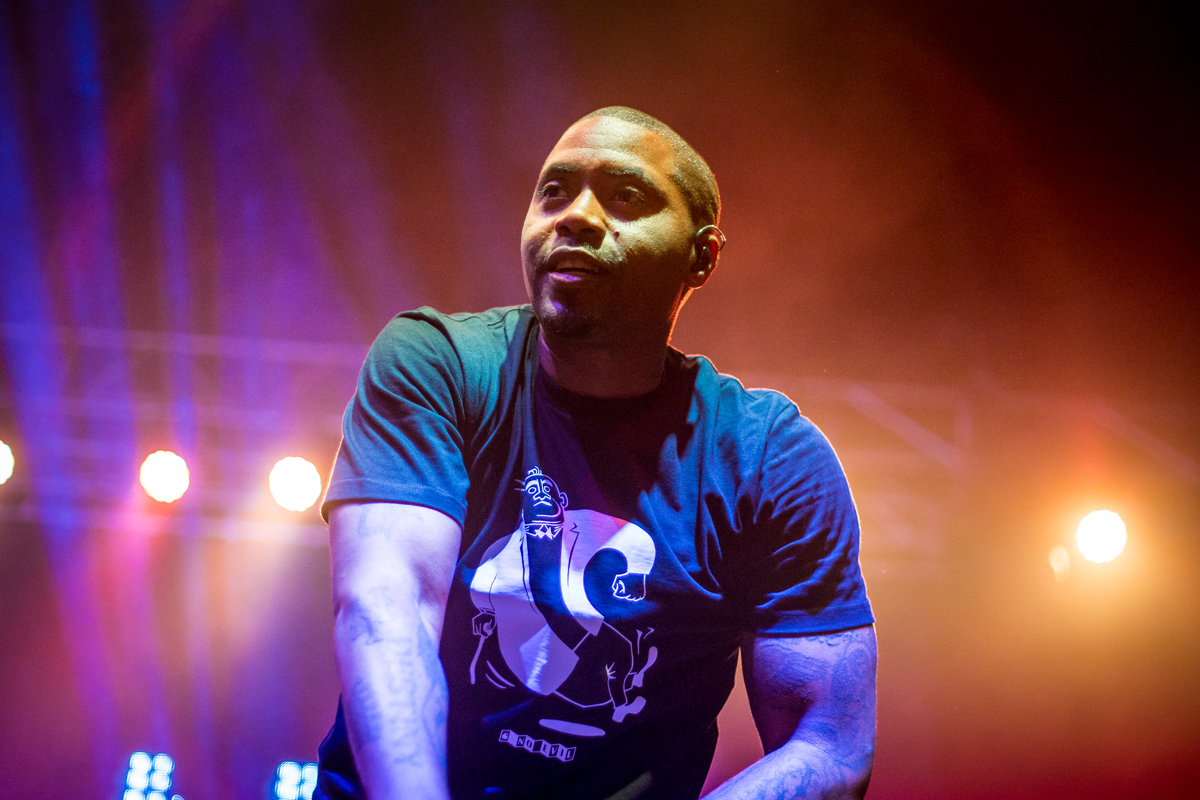 He's one of 90's biggest hip hop stars along with the likes of Tupac and Biggie, and lived to tell the tale after the West and East coast Rap divide.  His first album 'Illmatic' gained huge praise from both critics, and hip hop fans alike, really putting him amongst the best in New York and even the entire US.
Before we delve into the show, I need to talk about the warm-up but for all the wrong reasons. Shogun, (everyone's favourite and only Scottish rapper) was scheduled for the warm up but apparently he was lifted on the way to the venue – believe what you will. Instead the rowdy Scottish crowd were treated to a group of rappers whom no one knew. My guess was that they were his 'crew'. Not it matters because they were an absolute shambles. Not a single word was clearly heard on stage due to an oversensitive mic, an absolute distorted mess! There was zero reaction and I don't think anyone remotely cared. Everyone was too busy in their own world waiting for the gig to start.
Now that that's off my chest I can talk about the man I went to see, Nas! From the get go, it was an energetic and entertaining performance. With so many hits to choose from, as well as the legendary 'Illmatic' album, a good setlist was almost guaranteed. The list consisted of 23 tracks, and things kicked off with 'Get Down', a song symbolic to his upbringing when down a treat and the crowd was brought to life. The medium sized venue suited it perfectly and as expected it was full to the rafters.  The iconic N.Y. State of Mind was up next and the atmosphere went up a notch: Glasgow were up for it, and so was he. This was exactly what his fans wanted to see. Speaking to some gig goers before doors opened, many were sceptical that the man from the Broncs wouldn't play much of his hit first 'Illmatic', and instead play some of his newer pop influenced tracks such as 'Nas Album done' with DJ Khaled.  'Life's A Bitch' followed and literally the whole of the Academy sang along.
He definitely didn't fail to disappoint and played songs from THAT first record, including 'Halftime' and 'The World is Yours'. Oh can't forget probably his most recognizable mainstream track 'If I Ruled the World (Imagine That)' which again received critical and mainstream success. You could almost feel the excitement building before and even throughout the packed set. One of the only complaints was the bass drowning out 'rapping on occasion' but wasn't much of a problem because whole arena knew pretty much every word anyway. This in itself more than made up for it, and as said earlier brought a crackling atmosphere to the Academy.
We even had the pleasure of a cameo from reggae's finest Bob Marley in Nas's extended version of his own track 'One Love'. The crowd's reaction was brilliant with basically the entire venue letting out a resounding cheer. The set also featured extended version's featuring MJ, and even Eurythmics 'Sweet Dreams'. The undeniable classics all appeared, and most definitely left people happy. 'The Don' -one of his quicker tracks- got everyone jumping second from last. Nobody had left and the Acadamy was in full voice as if he had just came out. =
Towards the end, the atmosphere was almost in appreciation of the man's career than a direct reaction to the gig itself. Glasgow certainly appreciated the arrival of Hip Hop royalty, making for what could very well be the best gig I've ever attended.
---
FOLLOW US ON TWITTER AND INSTAGRAM