Written by Becky Little (@sometimesboring)
Following the devastating attack on Manchester just over a month ago, there seems to be an unshakable feeling of solidarity among the crowds of Manchester gigs. Speaking from experience of both the recent Radiohead gig at Old Trafford Cricket Ground and the Canadian legends, Arcade Fire at Castlefield Bowl, it is clear that the Manchester music scene is alive and kicking as ever, not one to back down in times of adversity. It is truly awe-inspiring.
Being quite a newbie to Manchester venues, The Castlefield Bowl shocked me (in a good way) by how tiny it was! Arriving at around 6pm, an hour after doors, I was convinced that we wouldn't get as good a spot as we'd hoped. How wrong I was! There was the typical small crowd of hardcore fans swarming towards the centre-barrier, and oddly the seating area was jam-packed, but our spot was perfect, for both Arcade Fire and their well-chosen support act, Beak.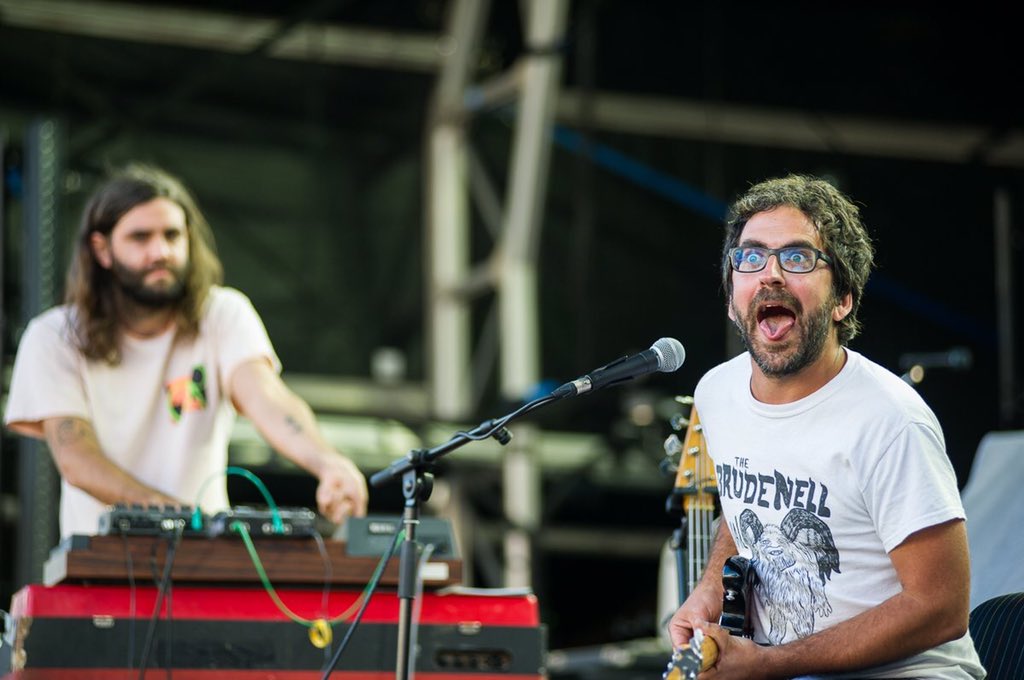 On the topic of Beak, I think the frantically typed 'Beak!!!!!!!!!!!!' in my phone's notes says it all. Effortlessly cool but somewhat self-deprecating, the electronic three-piece really got the crowd going with their hazy and summery sound, with my gig partner and fellow contributor Harry (@radiohedge) describing them as being like an "indie version" of math rock giants Battles, with a slightly post-rocky edge. However, despite being an appropriate opener, it was noted that the songs they played almost fused into one, making them sound a little bit samey. Nevertheless, they got us brilliantly riled up for what was to come.
Before I go on, I feel as though I should point out that the new offerings from Montreal's finest didn't really get me going.
HOWEVER.
The opening notes of Everything Now, the eponymous single of their newly announced 5th album, shook the entire crowd and instantly got everybody grooving, dispelling any suggestions that they had lost their edge. Their sheer power on stage and incredible presence was resounding throughout their set, which was littered with tracks from across their discography. Rebellion (Lies) of their debut and the second song of their set, saw many a fan get on a set of shoulders. You could tell by the huge smiles on the faces of  Win Butler and his brother Will that they were inspired by how energetic and receptive the crowd was, especially after such hardships that the city has faced.
Beautiful moments cropped up during the gig, with Win dedicating iconic ballad The Suburbs to "all the daughters and little girls" and ending their set beautifully with Neon Bible, unexpectedly followed by a heart-wrenching rendition of Joy Division's Love Will Tear Us Apart, a moving tribute to an incredible place. Also, you can watch the crowd sing the intro to Wake Up in unison (disclaimer: you will get goosebumps).
Overall, Arcade Fire undoubtedly put on one of the best shows I have ever seen. I was left completely speechless (and if anyone knows me well enough, it was mainly because I finally saw Sprawl II (Mountains Beyond Mountains) live).
What wasn't as incredible, however, was the quality of the draught Strongbow Dark Fruits available at bar. C'mon Castlefield Bowl!
10/10
---
FOLLOW US ON TWITTER AND INSTAGRAM