By Jake Cordiner (@jjjjaketh) + Liam Menzies (@blnkclyr) 
WHAT CAN ONLY BE DESCRIBED AS "CHRISTMAS FOR GAMERS", THIS YEAR'S ELECTRONIC ENTERTAINMENT EXPO, BETTER KNOWN AS E3, TOOK PLACE IN ITS HOME OF  LA. THERE WAS A LOT OF GOOD, AND A LOT OF BAD, SO WITHOUT FURTHER ADO, LET'S JUMP INTO IT!
Bethesda Were…There?
It's hard to defend Bethesda's conference: for every thing it did right (announcing sequels to both Wolfenstein and The Evil Within), it seemed to outdo any positives and call its own existence into question. The constant milking of Skyrim is something that's become a bit of a joke in the gaming community and then there's the whole mods debacle.
For those who aren't aware, back in 2015, Bethesda announced they would be releasing mods that you would need to pay for – as you can imagine, this did not go down well at all. Their latest stab at this concept, titled Creation Club, is one that justifiably has a lot of fans worried due to charging people for content that is already free, something that has already been shown in the bloody trailer. Many gamers want creators of mods to be paid for their content but it seems somewhat scummy for a publisher to want to be the one to regulate that when there are currently programs in place (Patreon for example) that do the job better.
This on top of the fact only two games were announced that people cared about left people disappointed to say the least: worryingly, this will be a trend in this piece.
Ubisoft Swap Out Cringe for Quality
Ubisoft have a bad track record at E3 to say the least: constantly starring in E3 cringe compilations due to their attempts to be hip and cool, most who paid attention to them were more often than not just hoping to witness their new favourite laughably bad moment. That wasn't the case this year though as the company *sharp inhale* made an effort. Granted, some of the games, most notably Assassin's Creed Origins, just looked uninspired or dull but I'd be lying if there weren't some gems that had people surprised.
A Mario – Rabbids crossover influenced by the X-Com games? Colour me interested. A pirate game that takes all the best elements of AC: Black Flag, allowing you to be the captain of your own ship? Count me in, matey. Motherfucking Beyond Good and Evil II being revealed (again) after being stuck in development hell for years and years? As the cockney swearing monkey in the trailer would say, I'm fucking in, govnah! With Far Cry 5 also looking like it'll breathe new life into a series that is slowly stagnating, Ubisoft may have just done a complete u-turn in the public opinion (I give it a week till they screw up). 
Microsoft's Catchphrase Bingo
Disclaimer: The Xbox conference was by no means a disaster. Showing off a heap of fun games, Microsoft may not have done enough to convert anyone hesitant about buying an Xbox One but they certainly reassured fans who were worried that their console was going through a gaming drought. Unfortunately, most of the conference had a bit of a ghost at the feat in the form of 4K raving. If you were to take a drink for every-time Phil Spencer and co. chucked a graphical bit of jargon or mention 60FPS then you would have passed out by the halfway point. Not only that but it all came off as fake, mainly due to Spencer's own comments regarding frames per second. It left a sour taste in your mouth and lead to plenty of compilations detailing the repetitiveness of it. Better luck next year, eh?
Nintendo Is Back, Baby!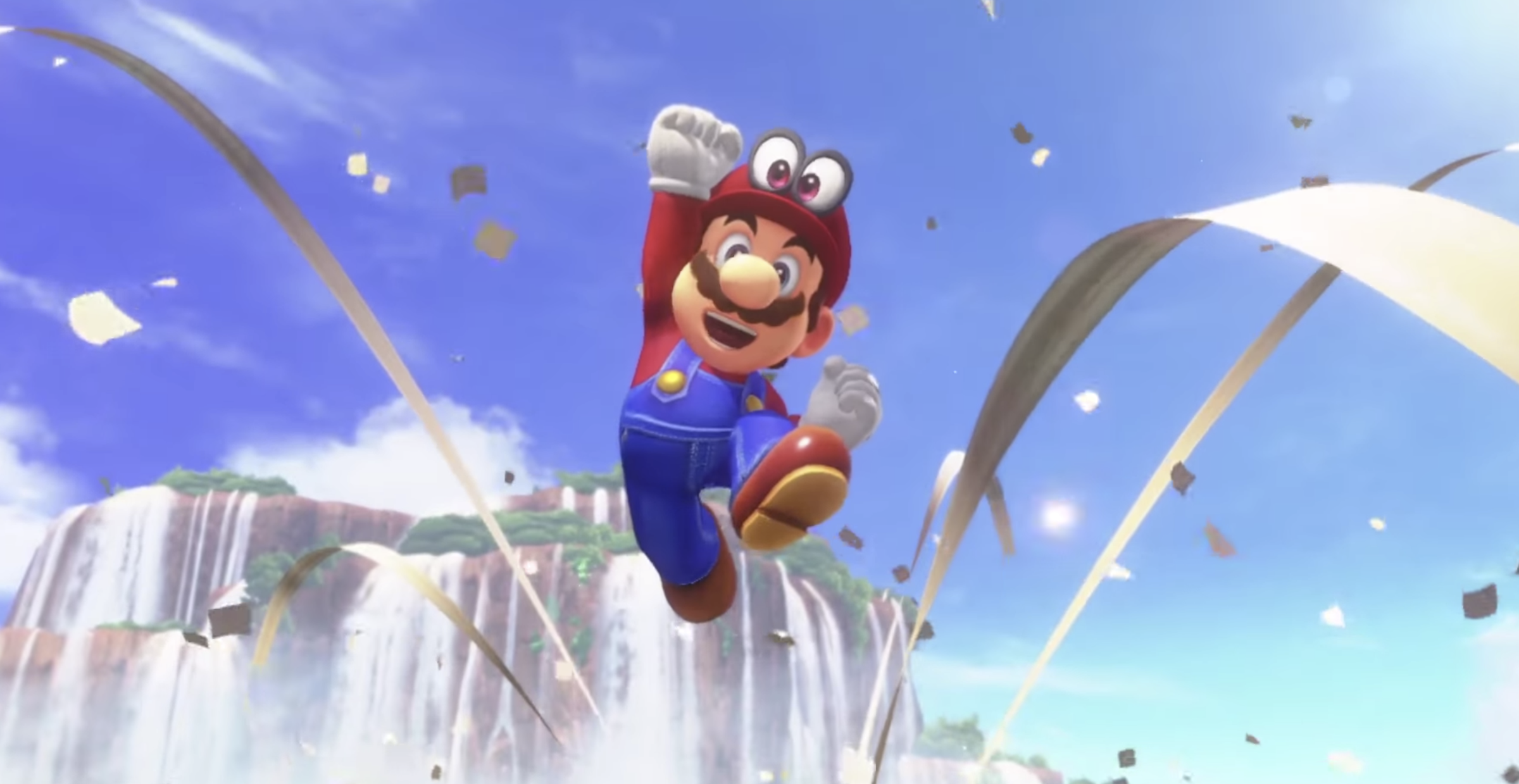 The boys are back in town, motherfucker. Thanks for keeping the throne warm, everyone else, Nintendo will have it back now. They've killed it. New Metroid? Fuck it, have two. New Kirby? Right you are. New Yoshi? Step this way, sir. Fire Emblem? Check. Xenoblade Chronicles 2? Check. Rocket League? Check. Ever wondered what it would be like if Mario's hat was sentient and could mind control literally anything? No? Fuck it. Wonder no more. We've done it. No fucking about from Reggie and the lads, they have won E3 after a number of lacklustre years. And lord above is it good to have them back.
Sony's Golden Run End
Over the past few years, Sony has reigned as king, both in a gaming sense and especially at E3. So maybe it shouldn't come as a surprise that a company as big as them would eventually lose momentum, showcasing games that weren't necessarily bad but weren't anything surprising, the only exception being a Shadow of the Colossus HD remake. While showing off game-play isn't necessarily a bad move when showing off the things that make people want to buy your console, it was definitely underwhelming to know most of the games that had watchers salivating wouldn't be coming out until an ambiguous date in 2018. It really says a lot about the Sony conference when people weren't discussing what was on show, rather what wasn't there: perhaps Gamescom will deliver some sort of Death Stranding or Last Of Us II news.
---
FOLLOW US ON TWITTER AND INSTAGRAM