Could one of the largest UK festivals face the same fate as T after another lukewarm announcement?
By Liam Menzies (@blinkclyro)
2016 is all but a distant memory for most, in no small part due to how much of a hellish year it was, though it was thankfully redeemed by the quality music that was on display. Unfortunately, though, that didn't mean that music was impenetrable, shown by the surprise but long-rumored cancellation of T In The Park as well as the threat of closure for various small music venues across the nation. However, 2017 has already got off to a great start with a great batch of albums dropping (see RTJ3 & I See You for example) in addition to a replacement to the aforementioned T In The Park titled TRNSMT (pronounced transmit).
It was only a matter of time until one of the most attended festivals in the UK was to make their second lineup announcement and as Reading & Leeds took to the stage, they tripped on the first step and face planted immediately.
Oh my. Before we get into the aspect of this line-up that has caused a great ruckus on social media, let's take a glance at what a £200 ticket is gonna get you. The newly added headliner is the result of Danny Dyer and Peep Show's Super Hans forming a band: Kasabian. While having a few good albums under their belt, Kasabian are very much like the already announced Muse which may have many attendees bored of white man fronted rock music by the end of the weekend. In addition to Kasabian, R+L also revealed various acts who will be performing including Wiley (yay!), Jimmy Eat World (woo!) and…Rat Boy….(yay?).
As you can expect from the above tweet, many were left unimpressed by the second announcement with many claiming that a lack of diversity, both gender, and genre-wise, being the key reason that they wouldn't pick up a ticket despite the final line up not being revealed till spring.
However, the below tweet definitely caught my attention due to not only how laughably ignorant it was but how much of a perfect representation it is of the vast majority of NME readers.
Yep, it's time to get into everyone's favourite subject, diversity or the lack thereof. Out of the 58 musicians (that's individuals, not 58 different acts) that will be taking part, only one is female. In addition to that, the one female artist is in a band alongside two other men, continuing the trend of a total lack of female performers at music festivals.This isn't a brand new issue by any means as shown by the 2015 final line-up which, when stripped of all its male acts, looked a little something like this: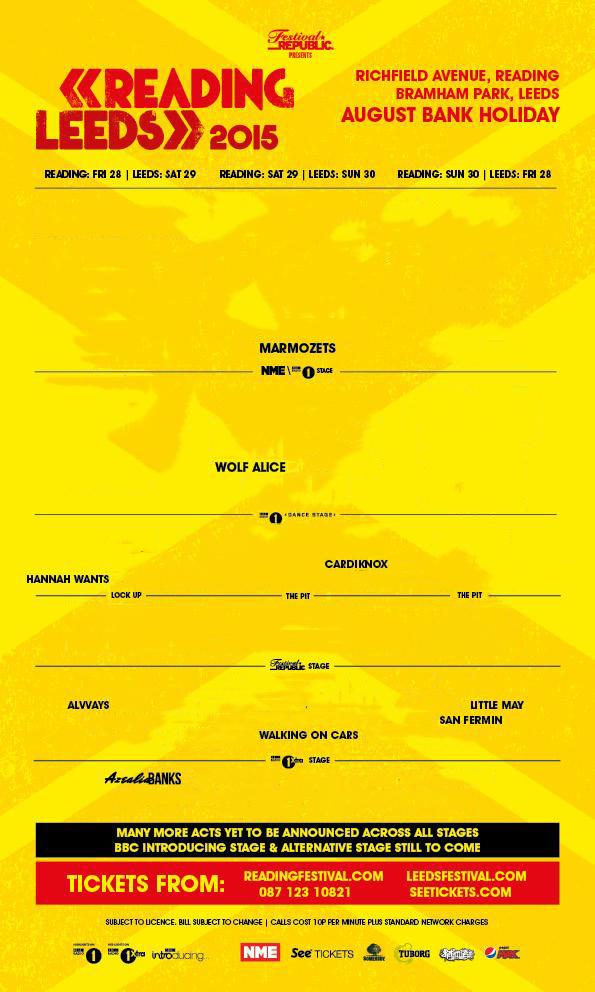 Oh, and the statement that "80% of women musicians are absolutely pants" couldn't be further from the truth: St Vincent, Courtney Barnett, Grimes, SOAK, Lana Del Rey, Angel Olsen, HAIM, Fake Boyfriend and Carley Rae Jepsen are just some of the few acts that are solely female in addition to bands like The XX, CHVRCHES, Wolf Alice, Crystal Castles, Alabama Shakes, Sleigh Bells and Yeah Yeah Yeahs who are either female lead or at least feature one. If you have a look at these acts as well, nearly all are either rock orientated or have previously played the festival before so the excuse that female musicians are usually pop singers is ridiculous.
The issue of this diversity isn't a case of having token female acts, it's the issue of ignoring, whether intentional or not, the fact there are various talented acts who would be much better suited to the festival to someone like Bastille. Many will debate for hours, even days, about whether this decision is fueled by misogyny and ignorance which I won't get into since, really, it's not my place and I'd rather not be burned at the stake regardless of what I say. It's a topic that is far more complex than a blog post is capable of tackling but what is clear to see is that the lack of diversity is not only bad for the festival, who will turn off potential attendees with a lineup full of average male bands, but also for their listeners who will be subjected to it.
So, for the love of god Reading + Leeds, get your finger out your fictional arse and make the final line-up something that will make me regret ever saying such slanderous things about you. As it stands, though, I'd rather drown in a mud-drenched tent than fork out a single penny for this festival.
---