A well-documented obstacle in the music industry is the dreaded second-album and after listening to any great debut album, it is often hard to wonder anything other than if it can be matched, never mind improved on. However for me, there is an even greater pressure on a band's third album, the album that will truly finalise what they are and how they will be perceived.
Modern Baseball, on their first two albums, produced endlessly fun and witty pop-punk music, and proved to be a valuable addition to the invigorated genre along with the likes of Neck Deep and The Front Bottoms. By releasing a third similar album that was just as strong they would have still undoubtedly cemented themselves as one of the leading bands in the genre, but to the great delight of any fan of the genre and the band itself, they had no intention of playing it safe.

The growth Modern Baseball display on Holy Ghost resonates similarly to the way FIDLAR's sophomore album Too did last year. Whilst not completely reinventing themselves as a band, the album shows a natural growth in their outlook on their previous themes and makes for much more rewarding material, giving the album a wealth of personality and warmth. Similarly to Too, Holy Ghost might not be as instantly satisfying as their previous albums and may not contain crowd pleasing anthems such as Your Graduation from 2014's You're Gonna Miss It All, but is undoubtedly their most substantial record and their best work yet.
Of course, no one can conjure up depth into their songwriting from nowhere and Modern Baseball's two frontmen, Jake Ewald and Brendan Lukens, have had no shortage of the kind of experiences that can lead to an album as personal as Holy Ghost. Since You're Gonna Miss It All, Ewald has suffered the loss of a family member and Lukens has undergone rehabilitation and both through their lyrics have had to do a fair amount of growing up from their angsty songs about girls and being awkward.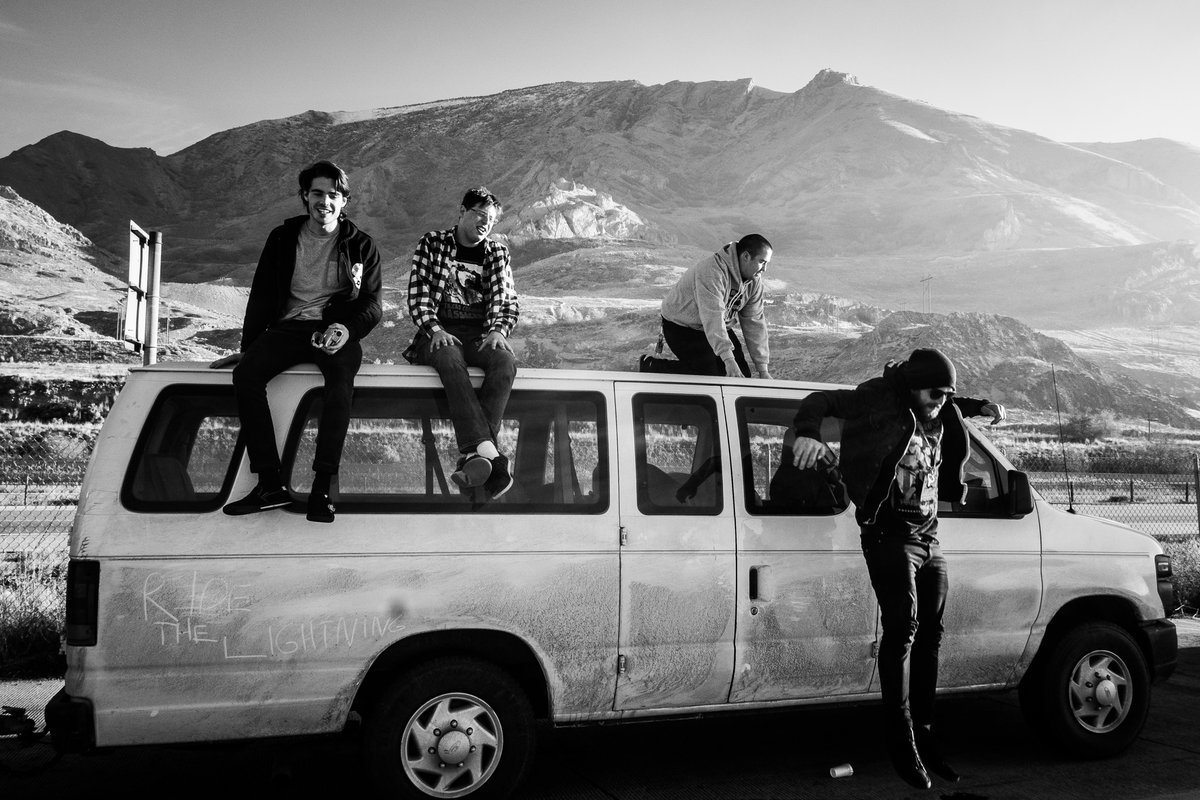 Due to the fact both of the bands writers have very different themes to convey, they made a conscious decision to split the album in two, with Ewald's half consisting of the first six songs whilst Lukens penned the final five. Thankfully, their bond as band members and friends causes the two halves to blend effortlessly and again helps to make this a very heartfelt and personal record.
Ewald's half begins with the title track Holy Ghost which sets the tone for the deeper ideas and concepts that he develops over the duration of his tracks about dealing with the loss and the realisation of how important it is to value personal relationships of any kind. His lyrics on this album warm us to him because of his honesty. An example of this is on album highlight Note to Self where Ewald admittedly comments on his own lyrics "Words just whining, every fucking day, What do I really want to say?". This idea of striving to be open through his art is a strong theme throughout his half and shines greatest when paired with his trademark observations of his and others behaviours such as on Hiding, a song about reflecting on personal growth which once again demonstrates Modern Baseball's growth as a band.
Whilst Ewald's half relies heavily on self-exploitation and nostalgia, Lukens leans more towards outright emotion and brutal honesty with himself. Consisting mostly of shorter, angrier tracks Lukens faces his issues with aggression and his half has a natural progression to it, from frustration to realisation. Breathing in Stereo outlines the negative effects touring had on Lukens and how he allowed it to damage his relationships however it has a more mature outlook on this than it would had this song been on their previous albums.
The next two songs build on his development and realisation of how to overcome his problems until album closerJust Another Face which is a triumphant victory song that serves as a fitting summary of the album, that Modern Baseball won't let personal issues define them. Instead they will use their position to help them develop as people. This is the overall theme of Holy Ghost and draws us closer to Modern Baseball, reminding us that they are people too and makes this a very emotive and resonant record.
So with their third album, Modern Baseball have transitioned into a new phase of their career with an important release and have doubt set the bar for future albums of the genre. Holy Ghost is an important album without trying to be, it's just two guys talking to their fans, which makes it incredibly likeable and their most satisfying album so far.
8/10

~