"It's about a yoga teacher" Alex Turner says in his Yorkshire heavy tone when Zane Lowe asks what his and long time friend Miles Kane's latest single is about. You'd think considering the weight of the situation, promoting their upcoming second LP as the duo The Last Shadow Puppets named Everything You've Came To Expect, that he would take it a bit more serious but that's arguably the charm of the Arctic Monkeys frontman: he doesn't give a fuck.
https://embed.itunes.apple.com/us/embedded-player/idsa.52dd5ecb-f501-11e5-9be2-1efaae453174
It's all fine and dandy to have the care free attitude as long as you're delivering the goods. Turner could afford that whenever AM came out as regardless of how divisive their new sound was, it sold a fuck ton meaning he could wear that slick back hair and leather jacket without breaking a sweat. Unfortunately it seems like the ego has got the best of him as we get a track that feels like a retread with very little attention paid to it.
Whilst it's not a horrendous track by any means, Miracle Aligner evokes all the low points and issues I had with the Arctic Monkey's last outing (slow tempo with an uninteresting vocal delivery and very little in the way of variety) and from what has been presented so far, this LP seems more like an Alex Turner solo project than a collaboration with little to know influence from Kane's music whatsoever on here. Very safe and borderline bland, it's a shame that years and years of waiting for The Last Shadow Puppets to return has resulted in a mess of singles which, while all different from one another, feel like this upcoming album has been rushed rather than polished.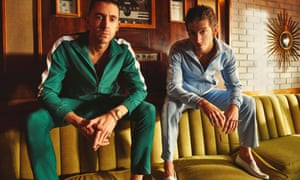 That could arguably be the charm of this record, an album that may reek of carelessness but is fueled by two artists that have a great chemistry and work off one another. Time will tell if that's the case but from what has been delivered so far, that third album we've been teased about may have to go back to the drawing board.
Fingers crossed.