With a well documented underground nature and undergoing multiple lineup changes, Weak13 standout decently well from the long list of alternative rock acts to appear from the midlands. We get under the skin and find out what makes the band tick while talking to bassist Wesley "munky" Smith.
Can you tell us how your band first came together, and what that whole process was like for you?
Wesley "munky" Smith: The current WEAK13 lineup came together in 2010 after Nick J Townsend (the founding member) felt the band needed a good shake up; he wanted members of all styles and influences; thus he scouted out me and Neel Parmar and his choices were wise as in the first rehearsal we had together it was like we had played together for years and musically we all clicked!
What sets your band apart from anyone else?
Wesley "munky" Smith: WEAK13 really is the most freedom to experiment in a band that I've ever felt and that openness to write whatever I feel on bass for the songs is unique in itself. If I want to play a funky slap n pop bass line I can or even use a dance/dub step bass sound I can; we all trust in each others ideas and abilities and it just works! Personally I believe too many bands out there are clone bands that sound way to similar to other big bands. We already have an Iron Maiden or Alter bridge but a lot of bands sound like them. WEAK13 have our influences we get compared too but it's like one of our album reviews stated "WEAK13 has an identity of their own"
How has the sound of your band grown since you first started out?
Wesley "munky" Smith: WEAK13 has had many lineup changes over the years since it was born in 1999 but thanks to nick's unique instantly recognisable vocals even though the musicians have changed it's always felt like WEAK13 I think now we are a culmination of every style the band has previously been, our debut album 'They Live' shows that and wait till you hear what we're currently putting together for the next album!
What does it take to be on top of your instrument/vocals, and can you tell us a bit about your practice routine as a musician?
Wesley "munky" Smith: I don't think you can ever really be on top of your instrument (it might damage it ha ha); I'm constantly learning new techniques and styles if I feel it will fit into a song or experimenting with different sounds. As for practise routines I play along to a VERY wide variety of styles of music even classical we also enjoy rehearsals together to practise jam and write new material!
Can you tell us about the current equipment you use?
Wesley "munky" Smith: Nick uses an ESP guitar with a Boss GT 100 effects pedal also a Boss VE20 vocal processor to create the same studio vocal sound live! I use an Ibanez SR50 bass with a Roland GR55 guitar synth pedal because it allows me to do pretty much what I want! Neel is actually currently in the process of rehashing his drum setup but that's a secret for now!
How long does it take to find that perfect set up? Or is it just a constant work in progress?
Wesley "munky" Smith: Definitely a work in progress. I'm happy with what we currently use as it has given me the all round bass sound for different techniques that I've always wanted plus with the synth side it gives me complete freedom of expression! The overall sound is pretty bad ass and full for just a 3 piece band we can can be as soft and quiet as a mouse or as loud and in your face heavy as Motörhead!
What's the hardest part about being in a band, and why?
Wesley "munky" Smith: The hardest part these days is getting people to listen in a market that's saturated with so much good originality and yet the media focus on so much unoriginal copycat pap. Also; too many bands see it as a competition these days instead of helping each other out, even some promoters are like this, not all though; there are some genuine ones like Jason McGuire from TBFM for example! But it's a real downer on the underground music business sometimes that's one of the hardest things!
Alternatively, what's the most rewarding part about being in a band, and why?
Wesley "munky" Smith: Thankfully the pluses outweigh the minuses here! I love the whole creative process of making an album from writing to recording with our amazing sound engineer John Stewart (guitarist from band Eight Great Fears), creating ideas and storyboards then filming them as music videos is great fun too, I love jamming rehearsing and chilling with Nick and Neel also the live performances because we always do something a bit different like a projector intro with crazy and informative images displayed throughout the set or our acoustic shows where we have wrapped ourselves in newspapers; Neel has even used upturned buckets as an acoustic percussion set! But there is nothing like a high energy gig with responsive crowd; it makes it all worthwhile!
What can you tell us about your latest release, and why should our readers check it out?
Wesley "munky" Smith: Our debut album 'They Live' is 11 tracks of creative originality designed to encompass what WEAK13 is truly capable of! It's filled with real life conspiracy theory and fact; humour and sadness; it's a little bit of everything all rolled into one and it's going down a treat with reviewers. We haven't had a bad review yet. It's normal for WEAK13 to get 5/5, 8/10 or 9/10. Great comments and positive feedback; see for yourself at weak13official.com
What do you want this release to do for the representation of your band?
Wesley "munky" Smith
: It is doing exactly what we intended and that was to show people that WEAK13 have something to say; that we aren't your everyday run of the mill artists and we will not stop doing what we are doing! We have supporters from all over the world! At one of our latest gigs a guy had come from France just to watch us! Everyone who has bought the album has said they love it and want more so we WILL happily oblige!
 Touring wise, can you give us a couple of personal highlights from your time on the road since you started out?
Wesley "munky" Smith: Every gig is a highlight for me but two that stand out for me include a gig in Worcester when me and Nick were setup and ready wondering "Where's Neel ?"and "What the hell we gonna do as at this point?" (it was the first year together); we hadn't even done any acoustic versions; then with only one minute till we had to start Neel rushes in, throws on a couple of cymbals and off we went! Also playing Kidderminster town hall was amazing; the stage is huge, the venue is big and was packed out; all round great night!
What do you like to do on the road to pass the time?
Wesley "munky" Smith:
Unfortunately for me I'm not good at travelling long distance; it makes me very tired so to keep myself busy and occupied I either use my phone for WEAK13 online promotion etc; listen to demos to get ideas for bass lines for future album tracks; or I'm a games geek so I play my Nintendo 3DS!
Where would you really like to tour the most in the world, and why?
Wesley "munky" Smith:
I was in Texas in April earlier this year and the manager of the Hard Rock Cafe loved our album and said he would love us to play there. Nick has been to LA a few times; Neel has travelled the world but I think we would really go down well in the USA; we have a fan base spread all over America so a big tour there would be amazing!
What bands have really influenced you over the years, and why?
Wesley "munky" Smith:
I could list hundreds of bands here but a few would be Pearl Jam, Pink Floyd, The Doors, Bob Marley, Micheal Jackson, The levellers, Pantera, Rage Against The Machine, Beethoven! Why? That's simple because they all made great music that soothed my soul!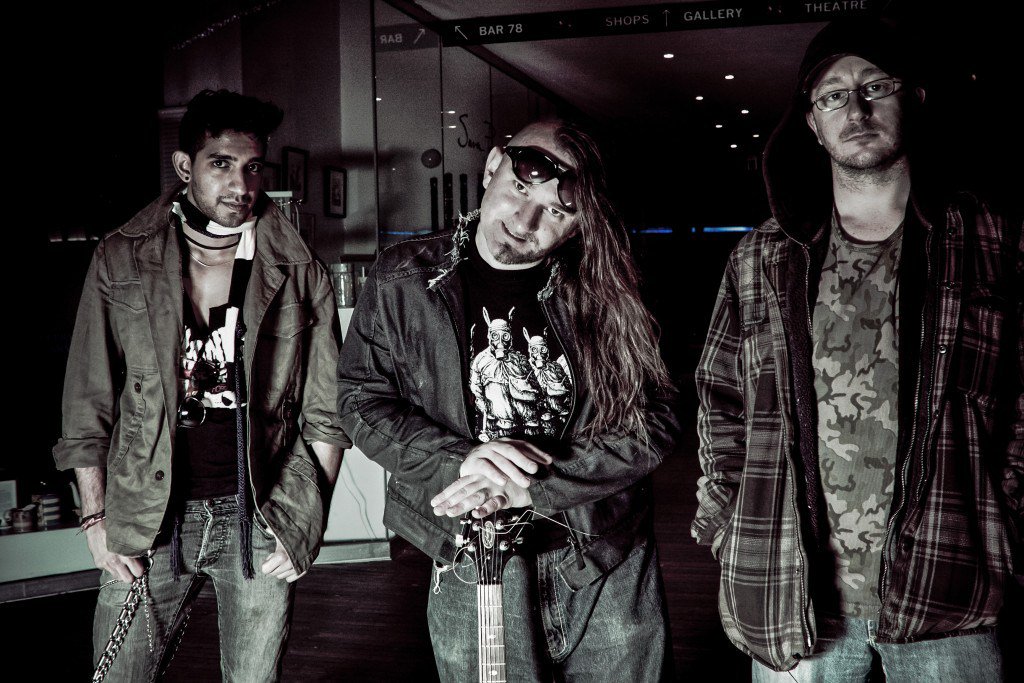 What does it take to maintain a healthy relationship within a band?
Wesley "munky" Smith: For a start communication. If you can't do that then quit now; but I think what makes a successful relationship in a band is simply choosing the right people for the job and not trying to dictate what any member should do!
Where do you see your band in five years time?
Wesley "munky" Smith: I can see our next album being the one that puts us firmly on the map and people then buying 'They Live' saying "how did I miss out on this?". Really things keep going from strength to strength for us so there are some very exciting times ahead! Either that or some Government agency will have been sent to kill us off ha ha ha!
What does the rest of 2016 hold for your band?
Wesley "munky" Smith: Mainly concentrating on writing for the next album but we have a few gigs lined up; we are booking some more and another music video is going into production which will be used to promote our album overseas as this video will be different from the rest typical WEAK13 just when you think you've sussed us out we change the game! Meanwhile check out our album only available from weak13official.com
WEAK13
-Liam Menzies (@blinkclyro)
~