By Oliver Butler (@notoliverbutler)
Gig day! Let's have a checklist, yeah? Tightness in my chest? Check. Breathless and gasping for air? You bet. Adrenaline pumping as I surge through the crowd? Oh baby, you'd better believe it! However, this had nothing to do with the fact Royal Blood were playing Arena Birmingham, no, no, all these strange feelings were because my ticket was sitting on my mate's coffee table, and I had to sprint double time to get there and back in time for the main event.
Royal Blood are a conundrum of a band. They're a heavy-handed rock and roll outfit that even your dad will enjoy, surging to the very top of the music game: on the other hand, people seem to stick their tongue out because, well, I don't know. This is quite bias, as you could present me a band with heavy riffs and loosely veiled innuendos about fucking as lyrics and I'd hail them as the next biggest thing, but hey, I'll leave the technical jazz conceptual fusion to your weird mate Kevin.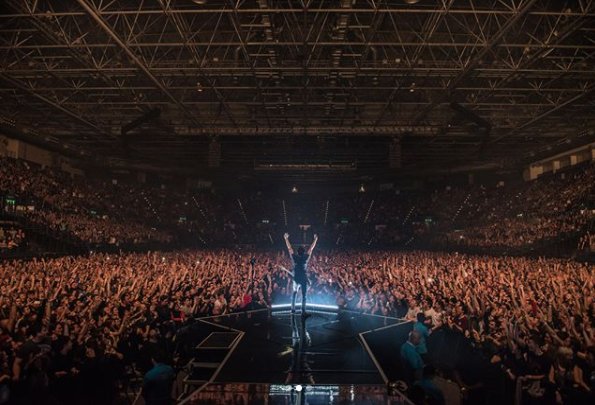 However, the tens of thousands who'd shuffled into the arena loudly welcomed the band on stage, with the fuzz-tastic Lights Out kicking off proceedings. For a two-man operation, their sound and presence filled the entire stage in a barrage of lights, sound, lasers and Ben Thatcher. Despite the fact that the power duo share just a drumkit, a bass guitar and a top secret pedalboard, they created a wall of sound that shook the arena to its core. Seriously, during a much-needed Ben Thatcher drum solo, the screens were rattling under the force of his cowbell.
With just two albums under their belts, it must have been a stretch for them to construct an arena headling setlist. Nope. Again, bias speaking, but it was nothing but choice cuts. It'd be easier to list songs they didn't include, but my policy on doing that is Don't Tell, because that'd be Careless. But an 18 song setlist when they have two albums means that not many were left behind, but it made for a tight, flowing set that only allowed occasional gasps of air.
When How Did We Get So Dark? came out, I stuck my tongue out and chuntered on about second album syndrome. But this ugly duckling has become my most favourite swan in 2017, with Hook Line & Sinker, Where Are You Now?, Sleep, Hole in Your Heart absolutely stealing the show on Saturday evening. But the growth has been absolutely amazing, when I saw them in the Wolverhampton Civic back at the start of 2015 and it felt like Mike Kerr hid himself in his guitar, fully focusing on on the show. At the latter half of 2017, he is at one with his guitar, silkily moving up and down the fretboard whilst taking some time out to have a chat with the audience. There's the rock 'n' roll cocksureness, but the disbelief that two lads from Brighton have made it this far.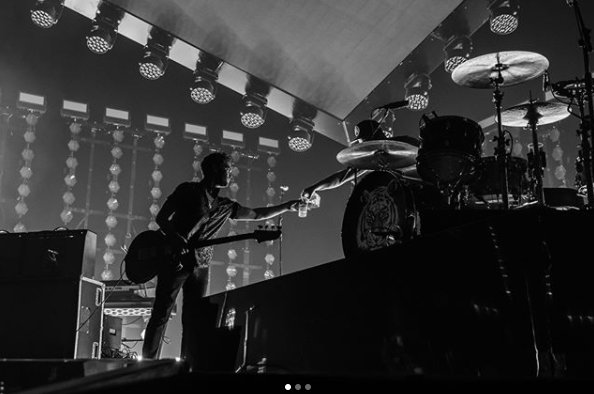 What made this show extra special, including the fact that this is their biggest show to date, was the whole production value of it all. The flashing lights, the way laser showered the band, locking them in a strobelight prison of their own creation, the moving screen literally bringing the roof down and the hip swinging backing singers, giving the wall of sound that bit of extra oomph whilst giving a familiar air of that rock 'n' roll ooh la la. The growth & evolution of Royal Blood has been massive, from relative heavy unknowns to a global phenomenon, but they've grown into it without any kind of fuss.
I'd also like to pause it here, before we go to the explosive, creamy finale to yet again lecture you about moshpit etiquette, as it seems to be a 'mainstream' activity these days. First things first, it's pretty simple: prepare to get knocked about a bit, and always pick up your fallen comrade. Don't trample all over some poor fucker on the floor or come and shake everyone's hand with a white hoodie draped over your shoulders warning about "elbows". You're in a mosh pit, you dull fuck. Second, there's a time and a place, don't just open it up because a new song is starting, open on the build-up, get stuck in on the drop. Third, if you're gonna stand filming the mosh pit, don't be shocked when you get driven into the middle of things – time waits for no mosh.
Right. Yeah. There.
The set was a mix of old classics and new favourites, with Little Monster, Come On Over, Loose Change, Figure It Out and Ten Tonne Skeleton sending the crowd into near frenzy. Brand new for twenty seventeen is something every RB fan has been waiting for; a Ben Thatcher drum solo. Also, he crowd surfed & took his hat off and I swear to fucking god I was shocked to see that there was hair under his hat. I assumed it was wires and motherboards. But from the first fuzz of Lights Out to the insanity of the extended Out of the Black finale, Royal Blood were at the very top of their game, pausing only momentarily to drink in the fact that most of Birmingham had showed up to say hello. There was also a tribute to Malcom Young, who had sadly passed on that day, with the boys blasting a bit of Back in Black for Birmingham.
It's hard to see where Royal Blood go from here. Their appeal is stratospheric & their riffs are devastatingly powerful, even in the vast cavern of an arena. However, the betting man in me says that they're only going to go up.
Ending the show, Mike Kerr said he hoped we all got laid, and well Mike, I'm still waiting.
Great gig though.