While not being flawless, Sam Esmail's vigilante hacker thriller enjoys a messy yet intriguing second season that avoids being a sophomore slump.
*SPOILERS AHEAD*
By Liam Menzies (@blinkclyro)
"Please tell me you are seeing this too," said a trembling Rami Malek as he accepted his award for Outstanding Lead Actor In A Drama Series for his role in Mr Robot. While being a nice little reference to a line his character Elliot Alderson made in Season 1, this opening line was no doubt the same thing everyone watching the Emmy's that night asked themselves: not only is Malek the first non-white actor to win the award in 18 years but he was accepting the award for a show that is still very much in its infancy. If the critical acclaim and the ever enthusiastic fanbase weren't enough to build up excitement for Sam Esmail's techno, psychological thriller then an Emmy win was what would result in the show reaching its hype threshold.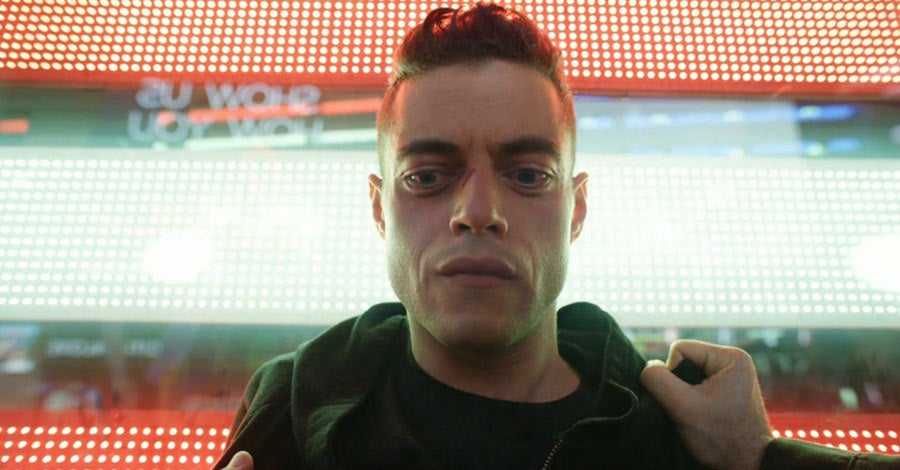 Let's put Season 2's flaws out there in the open: it's not as good as its first. To be fair, it was going to be a challenge for Esmail to somehow top it after viewers became enthralled with Elliot (Malek) and his f.society colleagues' quest and subsequent success to wipe all consumer debt. Season 1 managed to lay out some pretty solid social commentary, even if some monologues came across as an angry teen's first Reddit post, along with some amazing character development especially in regards of Elliot who is one of the few TV characters who feels like an accurate portrayal of mental health. 
Season 2 in comparison feels fairly untidy in comparison. Some of this feels intentional in places, notably in the earlier half as most attention is focused on the damage psyche of our protagonist which resulted in eps2.1_k3rnel-pan1c.ksd and eps2.4_m4ster-s1ave.ae, two of the best episodes Mr Robot has ever delivered. The latter episode started off as a twisted sitcom version of prior events that left many, myself included, in awe at how, despite several anti-climatic twists, this show still manages to hit it out of the park when it has focus. Conveniently, the lowest points seem to arise whenever there's a total lack of said focus and with this season not only being 12 episodes long but Esmail being in charge of directing duties, some plot points seemed to happen for no other reason than to make up running time (who can forget the frankly fruitless chess match between Elliot and alter Mr Robot) and far too much time was focused on Elliot's struggle. Not that it wasn't interesting, and Malek shows why he deserves that Emmy with a near flawless performance every time he appears on screen, but with nearly half the season spent detailing his inner turmoil, all building up to a prison twist that fan theories had predicted two episodes in, it was hard not to feel just a little bit sour with how things were going.
Once the latter half of the season began and the gears started turning however, Mr Robot started to reach the heights of its previous season. Tension is what this show excels in and Season 2 delivered this in bucket loads, most notably eps2.6_succ3ss0r.p12 which was totally absent of Elliot yet ran better that most of what had came before. Darlene (Carly Chaikin) totally owned the episode as she became the new leader of hacktivist group f.society, attempting and arguably failing to fill in the shoes of her brother. As the episode progressed, it was hard not to have sweaty palms as her new approach to some make or break situations left you sitting on the edge of your seat. Hats off not only to Chaikin but Portia Doubleday, Grace Gummer and Stephanie Corneliussen for their roles as Angela Moss, Dominique DiPierro and Joanna Wellick  respectively. As a Guardian opinion piece summed up perfectly As a Guardian opinion piece summed up perfectly , the attention paid on this female ensemble was a breathe of fresh air in a show that already features a fuck ton of diversity. Grace Gummer's DiPierro was a welcome change of perspective in her role as a FBI agent tracking down those who committed the world's biggest hack, something the characters in this show love to mention whenever the opportunity arises.
With all the talk and speculation of Stage 2 between Mr Robot and Whiterose, mystery was at the core of the latter half of this season and as we finally had it revealed to us by the M.I.A turned dead turned not actually dead Tyrell Welleck (Martin Wallström), it was hard not to be a mixture of excited and scared as to what the next season holds for us. A large chunk of questions have been answered but as Eliot lays bleeding out on the floor and we witness the flickering presence of Mr Robot, the show ended on one hell of a cliffhanger. The show may not have shook free of its Fight Club influences, especially when you notice the glaring similarities between Stage 2 and Project Mayhem's explosives, but it finally feels like Mr Robot is coming into its own.
With enough loose ends being left for Season 3 to tie up, as well as that post credits scene with the bad ass character Leon played by Joey Bada$$, the wait till 2017 seems to be even more daunting than previously anticipated. It's hard not to feel a little frustrated as we still have no idea what happened those 72 hours after the hack but having been made aware of what Tyrell has been planning, the power struggle between Mr Robot and Elliot reaching critical levels as well as the FBI being well aware of what they're all up to, the excitement is unbearable.
Things were and still are messy but in the twisted world of Mr Robot, it shouldn't be any other way.
~