When news got out that Civil War got greenlit due to Batman Vs Superman, a film that was as dull as it was messy, it wasn't a surprise that many grew worried about the reality of this massive clash of clans. Not only is the film a sequel to the Marvel magnum opus Winter Soldier but it's also a successor to the rather disappointing Age Of Ultron.
In addition to this, there's also the film's duty to introduce new characters as well as set things up for future installments in the MCU and somehow, whether it's due to some infinity gem or the Russo brothers natural talent, Civil War manages to do all of this and more, managing to be just as enthralling as its predecessors and then some.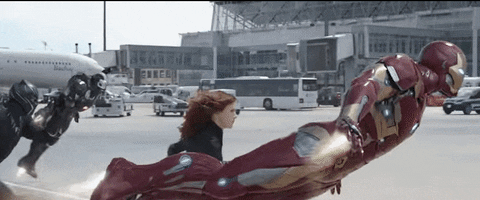 Having the Avengers fight amongst themselves isn't anything new but it's never been on this kind of scale. With The Avengers now being seen as dangerous whilst ungoverned, due to events in previous films as well as those in Civil War, the team is now split into two: Team Cap which feels that the Avengers should stay independent and Team Iron Man who supports the government oversight.
The story, for what it's trying to achieve, isn't overly complex and has a surprisingly good flow despite the 2hr 27 min run time, managing to establish the motivations of both teams superbly. Often you'll find your allegiance fluctuating, despite tweeting how you were #TeamCap or #TeamIronMan religiously beforehand, making the film just as engaging as you'd have expected.
Thankfully there's no MacGuffin, an issue that I covered in my rant on the MCU, though the "villain" isn't much of an improvement. While he has some well established motivation rather than just being evil, unlike Lex Luthor in BVS, it feels like the character of Zemo, one with a very interesting backstory, could have been best kept for a future installment due to his minimal involvement in the film.
Civil War is also full of emotion due to the conflict ignited by Bucky Barnes whose past is the catalyst for a lot of action which this film does perfectly. The big clash at an Airport Terminal is undoubtedly the best set piece ever conceived in the MCU which I refuse to spoil due to some pretty surprising elements. Just make sure to pick your jaw up from off the floor afterwards.
The highlight of the film for me were the introduction of two major characters, the first being Black Panther. Having never made a big screen appearance before, he didn't disappoint on his debut and left the audience desperate for his big solo venture in 2018. No doubt we'll get some more info about his origins which may or may not differ from the comics but regardless, the Prince of Wakanda looked badass as fuck.
Then there's the elephant or, rather, Spider in the room. Yes, the web slinger makes his MCU debut and oh my god. Never before has there been such a faithful adaptation of Spiderman before now as Tom Holland manages to manifest the awkward, teen charisma for his time as Peter Parker but then hits out with his quick witted jibes that had the whole cinema laughing out loud.
Surprisingly he has a lot more screen time than I expected and may have even had more lines of dialogue than Superman in BVS! Marvel may have messed with beloved characters before but this iteration of Spiderman more than makes up for that.
While the film isn't perfect by any means, the first half feels a bit sluggish from time to time, Civil War goes some way in combating the fatigue many face when it comes to superhero films. What we have here is a film that asks questions but doesn't forget what should be the main focus of these films: having fun.
~